smarter hosted voice from Armstrong Bell
We're experts in hosted voice IP telephony, and we understand what your business needs.
Isn't it a co-incidence that every provider tells you that their product is a perfect match for you? Armstrong Bell is different, we have two different platforms with different strengths, such as call centre features and video. Plus we are not tied to one carrier, so we have additional flexibility and backup options. Finally we create our own pricing structures and have a range of optional call bundles - so we can genuinely create the best solution for you.
versatile and adaptive

Venture is the platform that can meet all of your SME requirements and more, it supports a wide range of handsets so migrating from your current platform is easier than ever. Enterprise supports call centre features such as wallboards, agent reporting and fixed price call recording.

great value for money

Both platforms have all the features you'd expect from an advanced hosted telephony system – at a price that can help to give your business an advantage. Please have a look at the brochures for our two platforms here: Venture Enterprise
---
awesome features
Caller ID and Anonymous caller blocking
Call park, pick-up and group calls
Programmable quick dial numbers
Music on Hold
Call groups and hunt groups
Voicemail to email
Line monitoring
Reporting, statistics and wallboards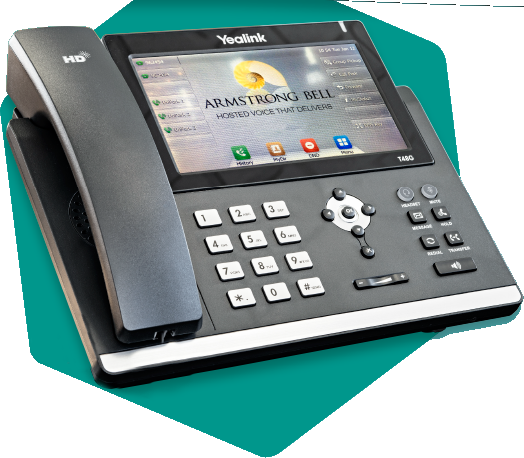 Switching to hosted voice couldn't be easier
We simply port any required numbers onto the system – this can be done after roll out of hardware and configuration. With one system from one supplier, there's just one call to make if you have any questions.
The Armstrong Bell support team is UK-based, and we care about your business communications.
When you sign up with Armstrong Bell, we guarantee to:
Help you get up and running quickly and efficiently
Guide you through the system and answer your questions accurately and in full
Provide a clear and easy-to-use website interface with all the information you need
Deliver a reliable platform, so you have fewer technical issues to deal with
Armstrong Bell has an outstanding track record for the reliability and stability of our systems and a reputation for fast, friendly and accurate support.