VoIP for Business Systems | Taking Your Company to the Next Level
19 January 2018
The key to maintaining a happy and hard-working workforce is to ensure that the team have the right tools to work with in the first place. Lack of organisation within offices can often lead to unhappy employees, and if positive work attitude decreases, so can the level of customer service that is being delivered.
Here at Armstrong Bell, we aim to provide solutions to tackle problems like these using quality-assured networking and telecommunication systems that are guaranteed to improve communication in and out of the office. Using our systems will provide ease of networking throughout the team and also represent your company in a respectable and professional manner to your clients.
Armstrong Bell has the Ideal VoIP Solution
As one of the country's leading suppliers of network and telecommunication systems, you can trust that Armstrong Bell know exactly what they are doing when it comes to VoIP for business. For expanding companies, hosted voice services are perfect for in and out of house communication. Here at Armstrong Bell our hosted VoIP for business systems are the ideal solution to support your team and your clients in everything you need to run your business smoothly.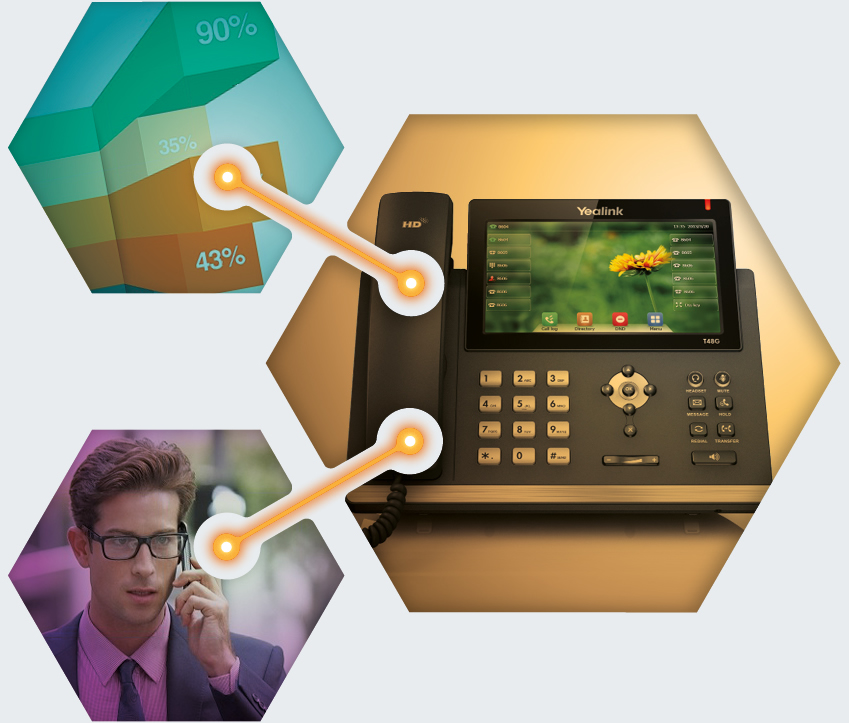 What is VoIP?
VoIP, which stands for Voice Over Internet Protocol is a type of telecommunications system which is hosted and transmitted over the internet. The whole hosted VoIP system is run through the internet, which means that VoIP can be used out of the office too – ideal for companies whose employees aren't always working at their desks.
VoIP For Business Systems at Armstrong Bell
Here at Armstrong Bell our VoIP for business systems prove to be popular and successful communication systems for small and large companies time and time again. Through the hosted platform, our own team will manage the system's incoming and outbound calls in a consistent professional manner meaning you don't have the worry of having to learn and teach your team a brand new system. However, if you do wish to have more control over your hosted voice services, we allow our customers full access to the portal too.
VoIP for Business – The Benefits
Implementing a hosted VoIP for business solution into your company can be extremely beneficial for both your employees and your clients. Armstrong Bell will answer the calls, direct customers to the correct people they want to speak to and ensure the whole hosted voice telephony system is being ran correctly and smoothly. Having such advanced systems in place decreases the risk of having queues of calls-in-waiting, which can often lead to frustrated customers. Hosted VoIP for business solutions improve customer service, and create organised and unified work environments for you and your colleagues to perform within whilst representing everything your company stands for.
Call Us Today!
If you are interested in finding out more about the VoIP for business services we have here at Armstrong Bell, please call 01527 834850 to speak to a member of our team who will be happy to help. Alternatively, you can visit https://www.armstrongbell.co.uk/hosted-voice.html