NEC SV9100 telephony from Armstrong Bell | it's the best in the business and our clients agree!
04 May 2018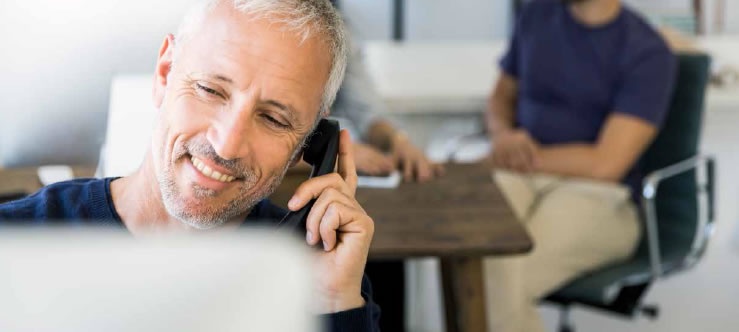 Here at Armstrong Bell we are very proud of the services and products we offer, including hosted VoIP telephony and business telecom systems, but more important than that is that our clients are happy.
We always strive to exceed our customers' expectations, which is why feedback is so valuable to our business.
We love to hear testimonials such as Teri Baron's, owner of Rotary printers in Stourport, telling us how our services have helped improve her business.

Stuck in the stone ages
Before enlisting the services of Armstrong Bell, Teri's business had an old system that had been in place for years. It was a no-frills system that worked fine. You could answer a call and put it through to someone else, but that was about it.
Maximise your business
To Teri's business, and most businesses for that matter, the telephone system is at the heart of everything, especially if your business offers customer services and sales via telephone. To offer the best service to your customers, and to make the job of your employees easier, it is essential that you know who's calling, and ideally what they are calling for, whether they are looking for advice or wanting to make a sale. With our NEC PBX telephony at Armstrong Bell, that's exactly what you can do. With Caller ID, you can be readily prepared as soon as the call is answered.
Out with the old in with the new
We offered Teri a totally different package to the one she was previously using, one that was efficient and cost effective to the business. Before, she had a provider of telephone calls, and a provider of broadband. Armstrong Bell simply put both together, which means one single amount, one bill and one payment. The NEC SV9100 has been designed to make life simpler for everyone. We implemented a whole new telephony system to Rotary Printers. In total there were 25 telephones in all departments, all integrated into the company CRM system.
The new system has all the bells and whistles you could want as a business, including night service, call transferring, call diverting, recall, do not disturb and a whole host of other benefits. The system can display the name of who is calling and the company they are calling from, which means Teri and the team can open the clients account and remind themselves of what they are working together on before they answer the call.
For example, someone in the team can answer the phone by saying "Good morning Mr. Jones. Your compliment slips, they're just being printed. They'll be delivered tomorrow. Was that what you're calling about?" This gives the company full control and takes their professionalism and service up to a whole new level.
Top notch service from Arms
trong Bell
For Teri and the team at Rotary Printers, saying goodbye to their old provider meant no more unanswered calls when things went wrong and meant they were no longer just a number to a faceless organisation. At Armstrong Bell we pride ourselves on our customer service, which is why we make it our job to understand the needs of our clients and to understand the business. We are always on the other end of the phone ready to help our customers.
Another happy customer!
Teri said, "I'm happy to say that the staff at Armstrong Bell do precisely that. Throughout the whole process of discarding our old telephone system and installing a new one, right from the moment that I asked Armstrong Bell to quote, not only did they quote competitively, they also offered us choices that we hadn't even thought of. They came in, they worked efficiently. They provided us with exactly what we wanted and more, at the price they quoted, on the day that they said they would deliver."
Call Us Today!
If you would like to find out more about our business telecoms systems at Armstrong Bell, call us today on 01527 834850.
If you have found this blog interesting, you may wish to read our previous blog on Business Mobile Phone Deals at https://www.armstrongbell.co.uk/business-mobile-phone-deals.html