Get a quote from the experts
Why should you upgrade your Business Telephone System?
The main reason a business should consider investing in a new telephone system, often comes down to requiring more functionality and less cost. As it's usually the main way your customers interact with you, it's important to get the solution right!
Armstrong Bell are the experts at installing on-premise PBX Telephone systems, using global no.1 market leader NEC. In today's climate, we all need to maintain high levels of customer service, and an ageing outdated system won't keep your business competitive against competition. A business phone system from Armstrong Bell, offers a cost effective, scalable solution that keeps your team and your customers connected.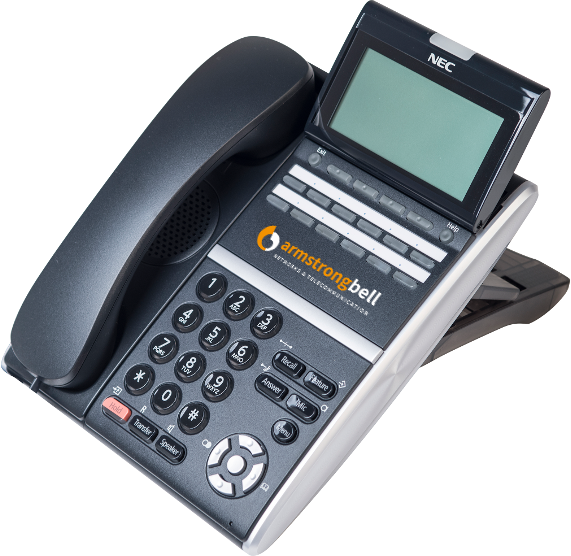 Enhance your customer experience – invest in a system that works
Your customers expect to be able to get in touch with you easily. On the other end of the line is a potential sale, existing customer enquiry, supplier or conference call that every business needs to make sure is always handled effectively. To be responsive to these needs, your employees must have a business telephone system that helps eliminate long call holds, incorrect call routing, and lost messages. We have installed many on-premise solutions in Schools, Healthcare, Hotels, Hospitality and many SME businesses which we can gladly reference!
Avoid the dangers of the ISDN switch off!
All of our NEC telephone systems have SIP trunk capability, an alternative method to traditional business phone lines. SIP Trunks use an internet connection instead of a physical copper line. Making this step, means you will be future proofing your investment ready for the phasing out of traditional ISDN lines in 2025. All businesses must eventually make the transition to using SIP for voice calls, avoid getting caught out and review your telephone system before the rush. You may need to consider upgrading your business broadband at the same time which we can also provide!
Cost-effective solution with low total cost of ownership
Our NEC telephone systems offer an array of built-in features meaning it is a very budget friendly solution for your business. This means less licenses, less hardware and extras to pay for. It also grows with your business, making upgrades cost-effective and scalable. By moving your company numbers over to SIP trunks, you also eliminate the need to pay costly line rentals that are no longer needed. We will often save up to 50% on line rental and 25%+ on call costs!
Handsets
We offer a wide range of handsets to choose from, either IP, digital or DECT cordless. We also offer mobile extensions, meaning remote workers can have an office presence using their smartphone. The function keys are customizable to suit individual requirements, making communication simple and practical. All of the handsets are very user-friendly and come with full on-site training and ongoing 'all you can eat support' for staff until everyone feels confident.
Maintenance & Support of your Telephone System
Maintaining your business telephone system after installation is very important and allows you to get the most out of your hardware. Our maintenance package offers the first year free of charge, ensuring your equipment is running at its best and operationally things continually run smoothly. You can have peace of mind that you will have continued support by the telecom experts. Our engineers all have years of experience installing NEC telephone systems – so you will be in capable hands!
We recognise it's helpful for you to experience continuity and have a dedicated point of contact, so with us you will speak to the same people each time. Our team of helpful engineers and office support are all employees, we don't sub-contract or transfer you to a call centre far away! We pride ourselves on quick response times, and a high service level with a personal touch.
Choose Armstrong Bell for your business telecoms and we guarantee to give you the best business phone deal and service! Don't just take our word for it – look at our testimonials from companies just like yours…